Rough Gem Material
Please note that none of this material is for sale. Fine gem rough is too hard to come by.The purpose of this page is to show what nice gem rough looks like. I am a rockhound at heart and I appreciate a beautiful crystal in its natural state as well as the stones I will cut from them. Many customers of my cut stones have no idea what the rough material looks like. This page will display an assortment of different rough so you can see what the material looks like before cutting.
77 gram Nigerian aquamarine
---
45 gram blue tourmaline from Afghanistan
---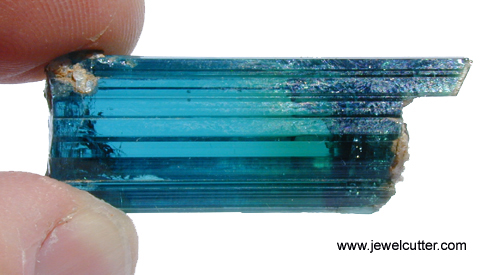 15 gram bi-color tourmaline from Afghanistan
---
12.8 gram mint green tourmaline from the Himalaya Tourmaline Mine, San Diego County, USA.
---
Copyright © Gary Kratochvil - All Rights Reserved.